When people talk about London's economy they usually go on about banks and finance, but what really powers London is its creative and cultural industries.
One in every six jobs in London is in the creative sector, earning more than £50billion a year for our economy. In fact, those jobs don't just power London, they define it, because three out of every four visitors to London say they come here for its cultural life. And what makes London so special is that it has talented people and successful businesses in every part of the creative economy.
Hollywood does film, Milan does fashion, Liverpool does music – but London does it all – film, fashion, music, games, design, advertising, theatre, visual arts, architecture. These industries feed off each other and help drive each other. And skills from the creative industries are now spreading into many other areas of the city's economy, too.
But there's no guarantee that it's always going to be like that unless all these businesses can keep attracting new talent with new skills and ideas. There are growing skills shortages in many creative industries which is a headache for the companies – but a huge opportunity for people with ideas and ambition.
In the past that constant need for new skills was often met by people from the rest of Europe coming to work here, because this was the hottest place for talent to flourish. Brexit has changed all that and now our creative industries are desperate to attract the young talent that's already here.
And there's another change happening, too. Jobs in the creative industries have often been handed out in a very informal way. Somebody has a son, a daughter, a friend, a relative who needs a job, and gets a job – whether or not they're the best person to do it. Now businesses are waking up to the fact that not only is this wrong, it's definitely not a clever way to do things in a city where there's incredible talent and potential, if you only look for it. And they're looking for it now.
I helped start a company called Creative England that invested in creative businesses and helped them grow. Our slogan was "talent is everywhere but opportunity is not" because so many creative people were struggling to get ahead and turn their dreams into businesses. Ten years later, that's still true, but what's changing in London is that there are now better signposts to help talent connect with opportunity, that can help you find what works for you and what skills you need to get there.
If you want to try to make it in film or games or music or fashion or any of the other creative industries that flourish in this part of London, now's a good time to be doing it, and The Wick guide to creative career opportunities gives you a great start.
John Newbigin is a member of the Mayor's 'Cultural Leadership Board' and Ambassador for the creative industries. He was previously a member of the 'London Economic Action Partnership Board.'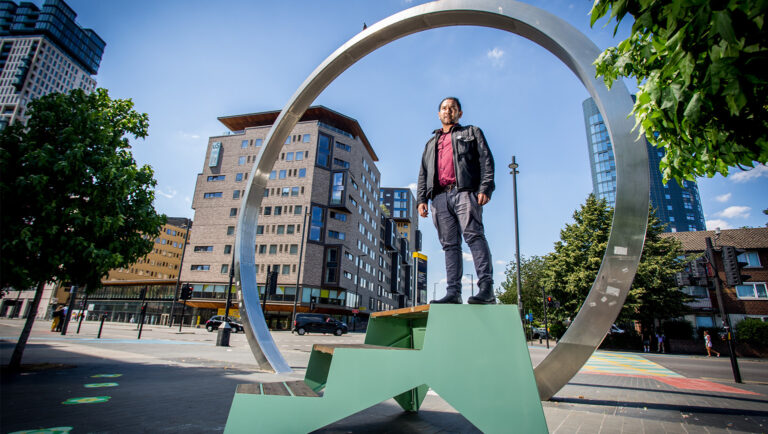 Art & Culture
As the driving force behind the 'Save Brick Lane' campaign, Saif Osmani fights for East London's marginalised voices. Here he argues that disaffection with the Olympic legacy has reinforced inequalities,
with the arts often used to cover-up social divide
Read More »